CHIDI NUEL NWOKEABIA

MANAGING DIRECTOR/PRODUCER
Mr. Chidi Nwokeabia studied Accountancy in University of Nigeria, Nsukka with Masters in Human Resources Management. He has been involved in the movie industry since 1993 and was involved in a number of movies among which are; Unforgiven Sin, Betrayal, Deadly Affairs, Amanda, among others. He had a short spell in the oil and gas industry between 1997-2004 before coming back into the movie industry as a producer. He has since produced some movies among which are: "CHAMPIONS OF OUR TIME", "OMONO", "TORN GARMENT", "THE LAST GIRL STANDING", and "LAW STUDENTS". The soap opera includes the following: "SCHOOL" and "THE PATRIOTS", a national orientation programme highlighting the activities of NAFDAC, a government regulatory agency.
Mr. Chidi Nwokeabia is also a script writer having written 'The Last Girl Standing", "School", "The Law Students", and "The Patriots".

He is a member of both the Association Of Movie Producers [AMP] and Screen Writer Guild Of Nigeria [SWGN].

E-mail- chidi@macnuelproductions.com
ymd220@yahoo.com.
ERNEST OBI

TECHNICAL FILM DIRECTOR/ACTOR
Ernest Obi studied Dramatics Arts in Obafemi Awolowo University, Ife and has over 13 years experience in the movie industry. He has acted, directed, and produced numerous movies. Mr. Ernest Obi has acted in numerous movies among which are 'Glamour Girls', 'Golden Axe', 'Till Death', 'Calamity, 'The Princess Must Dance Naked', 'Love Affairs among others.

He has also directed the following movies, 'Engagement Night', 'Red Rose', 'Beware', 'Attack, 'Wind of Change' [for the American government through its Nigerian Embassy in Abuja, among others.

Mr. Obi has produced the following movies, 'Lamentations, 'Till Death' 'Red Rose' 'Unknown Angel' among others.

He is a member of the Directors' Guild Of Nigeria, [DGN], Association Of Movie Producers, [AMP] and the Actors' Guild Of Nigeria, where he holds the position of the Chairman, Lagos State Branch.

Email-bushman@yahoo.com
ernestobi@macnuelproductions.com
CHARLES INOJIE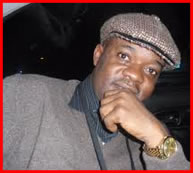 Charles Inojie holds a professional certificate in Acting [CTA] 1993, and a Barchelors Degree in Theatre Arts [B A Hons] 1999, both from the University of Port Harcourt.His first stint in Nollywood was in 1997 when as an undergraduate he was assigned the Production Designer's role aside playing the part of a policeofficer in the movie: YEAR 2000.

Since graduation from the university in 1999, he has directed, written and or acted in over 50 Nollywood movies amongst which are: POLICE RECRUIT, REGGAE BOYS, SOUND OF LOVE, CAUGHT IN THE ACT, MY BABY, ENDLESS LIES, PRICE OF FAME, ROYAL MESSENGERS, etc. Charles Inojie is member, Writers Guild of Nigeria [WGN],Assoiation of Movie Producers [AMP],Actors Guild of Nigeria [AGN], andDirectors Guild of Nigeria [DGN].

Email- rite_inojie@yahoo.com
charlesinojie@macnuelproductions.com